Erin Troy DVM, CCRP, CVPP
Dr. Erin Troy was raised on a small farm in Contra Costa County. She received her Bachelor's of Science from UC Davis and her Doctorate of Veterinary Medicine from University of Wisconsin. Dr Troy began working at MVH as part of the nursing staff before veterinary school and later returned as an Associate Veterinarian.
In 1999 Dr Troy purchased the practice from her mentor Dr. Kennedy. Continuing education has always been a priority for Dr Troy and she has traveled to many conferences on Internal Medicine, Surgery, and Physical Medicine and Rehabilitation throughout the country. In addition, Dr Troy values community involvement and she enjoys speaking to groups of all backgrounds. She values the connections that she has made with the families with whom she has worked for so many years. Dr Troy enjoys spending her spare time doing many outdoor activities with her husband John and their dog Buoy.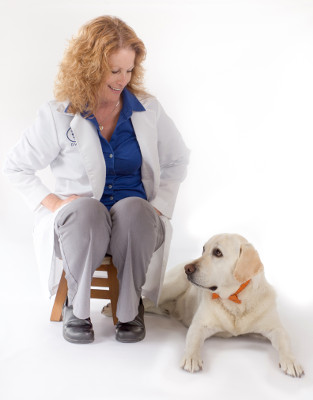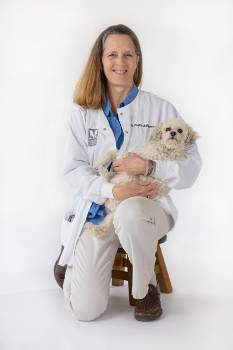 Ruth Adams DVM
Dr. Ruth Adams was born and raised in Antioch, CA where she obtained her first experiences in the veterinary field as a teenager. She attended DVC initially then transferred to UC Davis, graduating in 1983 with a BS in Zoology. She worked at local veterinary hospitals during her undergraduate and veterinary training, graduating in 1987, also from UC Davis. She has been practicing veterinary medicine in the East Bay for 25 years. Since graduating Dr. Adams has developed special interests in small mammals (ferrets, rabbits, rats, guinea pigs and hamsters), reptiles, amphibians and birds. She has particular interest and experience in the diagnosis and treatment of conditions affecting the Shar Pei dog and in small animal dentistry. She is a member of the Association of Avian Veterinarians, Association of Exotic Mammal Veterinarians, Association of Amphibian and Reptile Veterinarians, Shar Pei Club of America, and the American Ferret Association.
In her spare time Dr. Adams enjoys gardening, travel, reading, and other relaxing activities!
Heidi Hutmaker DVM
We had to wait for her to traverse the country, developing her passion for animals in Nebraska, Minnesota, Kansas, North Carolina and Michigan, but it's been worth it! Now that she is (happily, she reports) settled in the Bay Area, Dr. Hutmaker is putting her significant experience and training in integrative care to work for our feline and canine patients.
"Integrative" is the operative word in Dr. Hutmaker's approach to veterinary medicine. Our clients appreciate her background in western veterinary practices and quickly come to value her deep experience in eastern and integrative medicine including acupuncture, chiropractic care, herbs, and Tui-na massage.
Dr. Hutmaker's extensive training, education, and certifications include:
Doctor of Veterinary Medicine (DVM), University of Minnesota
Certified Canine Rehabilitation Therapist (CCRT), Canine Rehabilitation Institute
Certified Veterinary Acupuncturist (CVA), Chi Institute of Traditional Chinese Veterinary Medicine
Certified Veterinary Tui-Na Practitioner (CVTP), Chi Institute
Certified Veterinary Chinese Herbalist (CVCH), Chi Institute
Certified in Veterinary Chiropractic Care by the College of Animal Chiropractors
Certified Veterinary Spinal Manipulative Therapist (CVSMT), Veterinary Chiropractic Learning Centre

As you might guess, education is an integral part of Dr. Hutmaker's life. She is currently enrolled in the Master's in Traditional Chinese Veterinary Medicine (TCVM) program at the Chi Institute. When not studying, Dr. Hutmaker enjoys spending time with her wife Jennifer, three dogs (Holden, Hayden, and Theo), and two cats (Ellis and Mae). She is excited to call the Bay Area home and looks forward to many good hikes, cheeses and wines.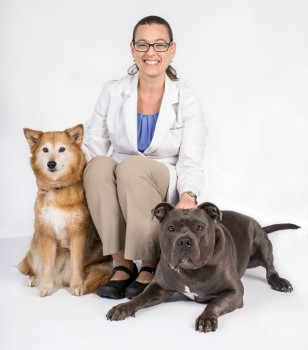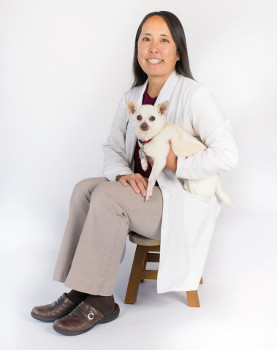 Jill Iwata DVM
Dr. Jill Iwata was born and raised in nearby Benicia, where she was the youngest of three girls. Following in the footsteps of her two older sisters, Jill graduated from UC Davis in 1999 with a degree in Animal Science. While an undergraduate, Jill worked at a local veterinary hospital which solidified her decision to become a veterinarian. Jill then attended the UC Davis School of Veterinary Medicine and graduated in 2003.  While at UC Davis, Jill was active in many clubs, including Phi Zeta – the Veterinary Medicine Honor Society and the Orphan Kitten Project (if you ever need a good story, ask her how she ended up with her two crazy cats). In her free time, Jill relaxes with her husband and sons and loves to bake goodies for the staff at Muller Veterinary Hospital.
Mona Miller DVM
Dr. Mona Miller grew up rescuing stray birds and cats in the canyons of Los Angeles. Following her passion for helping animals, she received her BA in Genetics from UC Berkeley in 1985 and her DVM from UC Davis in 1990. Dr. Miller has practiced medicine in Boston and Southern California, but is happy to call the Bay Area home since 2001. Dr. Miller's interest include canine and feline internal medicine, and educating people about the importance of preventative health care. Dr. Miller has a special interest in caring for avian/exotic pets including rabbits, rodents, birds, and reptiles. She has pursued continuing education in these areas, and has been a member of Association of Avian Veterinarians since 1997 and the Association of Exotic Mammal Veterinarians since 2008. In her free time Dr. Miller loves spending time with her young son, yellow lab, and two cats.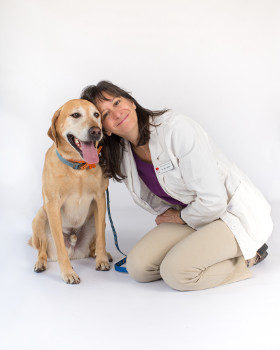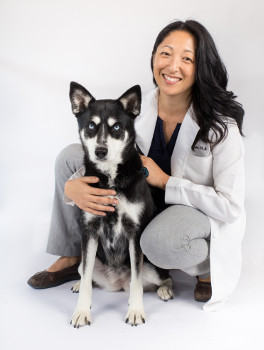 Jennifer Yamamoto DVM, CVA
Dr. Jennifer Yamamoto was born and raised in California's Central Valley. She knew from the age of five (when she adopted her first cat) that she wanted to be a veterinarian. After graduating from high school, she completed her bachelor's degree in biology at UCLA and then headed straight to veterinary school at UC Davis. While at UC Davis, Jennifer actively participated in many clubs including the Holistic Medicine Club, Orphan Kitten Program and Fix Our Ferals. Jennifer has been practicing small animal medicine in Contra Costa County since 2002. In 2006, she earned her veterinary acupuncture certification through Colorado State University, and she is happy to be able to offer this complementary therapy to her patients at Muller Veterinary Hospital and the Canine Rehabilitation Center. Jennifer lives in Pleasant Hill with her husband Wes, their two daughters, and temperamental feline friend Meow Meow.
Pamela Mulvey DC, CAC
With over 30 years of chiropractic experience, Dr. Pamela Mulvey's practice includes both humans, and large and small animals. She is excited to provide integrated chiropractic care in a veterinary hospital where patients receive the benefit of a team of veterinary care experts, all of whom value communication, education and community.
Originally from the East coast, Pamela moved to the Bay Area with her family as a teenager. She graduated from the University of California, Berkeley with a Bachelor of Science in Nutritional Science and Dietetics. Her passion for health through nutrition evolved into a desire to master an alternative healing profession. Her education at Palmer College of Chiropractic, West, earned her a Doctorate in Chiropractic, and she became licensed to practice in California in 1985. To broaden her scope of practice to include animals, Dr. Mulvey graduated from the Options for Animals College of Animal Chiropractic, and is certified by the International Veterinary Chiropractic Association. In addition, Dr. Mulvey has post graduate training in Behavioral Medicine and is a certified yoga teacher. Dr. Mulvey currently practices and resides in Marin county, and enjoys mountain biking and hiking with her dog, Bindi.