Our own Dr. Erin Troy participated in an event this past weekend where  Food Express in Mill Valley donated resuscitation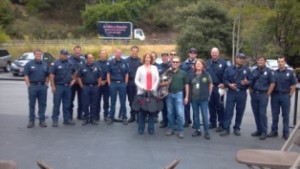 kits specifically designed for pets to Marin County fire departments.  A month-long fundraiser by the Mill Valley Pet Food Express, as well as the Whole Foods on East Blithedale Avenue in Mill Valley, resulted in the donation of 44 kits, according to Pet Food Express officials.
Prior to the donation, most of the county's fire departments were not equipped with the kits.  Marin County fire departments will put the kits on their fire engines, according to officials.  Each kit includes three sizes of oxygen masks, oxygen supply lines, a rescue leash, decals and instructions on how to use the equipment. 
Dr. Troy and Muller Veterinary Hospital designed the kits and have been providing them to various fire departments throughout the country.  In addition, Dr. Troy is a FEMA instructor and has participated in training dog handlers in the field on canine first aid and other canine medical emergencies, in order to enable the handlers to be self sufficient when on site at a national or international disaster!