We have been fortunate enough to support Walnut Creek area families for multiple generations. As new care strategies have been developed, and our clients have inquired, we have added to and adapted our services.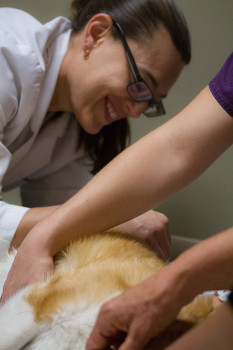 As a result, we have developed our practices into a recognized leader in integrative care options. Several of our practitioners are certified in and have received advanced training in treatments like chiropractic, acupuncture, and in technology-driven therapies like therapeutic laser therapy and Assisi Loop TPEMF.
When to Consider Integrative Care & Pain Management
Signs of pain – Pets may not exhibit the signs of pain that people do. When you notice changes in mobility, daily habits, posture, or expressions, bring him or her in for evaluation. Review these tips for more information – Does Your Pet Hurt?
Chronic conditions – when your pet suffers from a chronic problem, such as arthritis, limping, allergies (ongoing itching and scratching), and chronic vomiting and diarrhea, we may be able to significantly improve quality of life.
To support healing – several of the integrative and pain management techniques in which we are trained serve as complements to traditional medicine.
Wellness care – some of the therapies we employ are useful for general wellness, including in aging pets.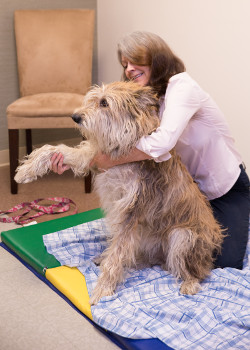 Integrative Care & Pain Management Strategies We Use
Acupuncture – effective in managing a wide range of chronic conditions, pain management, systemic diseases, and musculoskeletal issues
Veterinary Chiropractic – useful as a complement to traditional veterinary medicine or for treating spinal problems, biomechanical related musculoskeletal disorders, and associated chronic pain
Massage – for pain management, rehabilitation and mobility
Therapeutic Level Laser Therapy – non-invasive treatment option to reduce pain and stimulate healing.
The Assisi Loop® Targeted Pulsed Electromagnetic Field Therapy (TPEMF) – Post-operative pain & swelling, Osteoarthritis and other skeletal conditions as well as soft tissue wound care.
Pulsed Signal Therapy – particularly useful in treating joint pain without drugs or surgery, this treatment allows us to treat injuries, hip dysplasia, degenerative joint conditions, osteoarthritis and other joint diseases.
Therapeutic Ultrasound – beneficial in treating soft tissue injuries, increasing muscle flexibility, and decreasing muscle spasm and scar tissue.
Platelet Rich Plasma (PRP) – After a tendon, ligament, muscle or joint injury, PRP speeds up healing.
Cold/Heat Therapy – can be beneficial in decreasing pain and inflammation
TENS (Transcutaneous Electrical Nerve Stimulation) – is an effective noninvasive method of reducing chronic or acute pain resulting from surgery, trauma or osteoarthritis. TENS uses low voltage electrical current to decrease discomfort by reducing the pain impulses that reach the brain and by potentially causing the release of endorphins.
Canine Rehab Center – our commitment to maximizing the quality of life for the pets and pet owners in our area led to establishing a dedicated rehabilitation center. Ensuring your dog returns to the greatest level of mobility and strength hinges on starting the process early and combining our expertise and equipment with a therapy program at home. Learn more.
By developing our expertise in the above therapies, we offer help to patients who may not respond to more traditional treatment and provide options that may better match your desires for your pet. For more information on how we may serve the needs of you and your pet, please review our Wellness & Primary Care and Canine Rehabilitation Services.
To schedule an appointment with one of our doctors, complete our Registration Form, then give us a call at (925) 934-8042 or email us.